Property Managment
& Real Estate Apps
As leading app developers and business consultants, we're always keen to help new businesses get off the ground.
Why Messapps is
the best?
Real Estate professionals and construction firms across the globe are flocking to our customized and tailor-made software, and benefiting hugely from the app development solutions we provide. Why? Because our app development company has the experience and expertise they need to see real results, cuts in costs, improvements to workflow, and growth in their business.
Full-Service App
Development
Company
Experienced
developers
and designers
Ranked top app
development
company
Apps we've built
are featured in the
top tech media
Benefits of Real Estate Apps

With our apps, you can ensure business continues to flow outside of office hours. Your customers will want to get in touch 24/7, and will be coming from all over the world. Realtors and brokers alike can use the app the update data in real time, giving your customers the answers to all their questions, and the chance to check out the latest properties.
---
Salesmanship and face-to-face communication will always be a cornerstone to this industry, and we're striving to bring that quality to our clients with customised apps. Dynamic, user-friendly, and expressive apps are increasingly popular with real estate customers, and will help you seal the deals that bring ever-greater success.
The real estate industry requires no shortage of data analysis tools, databases and communication solutions for gaining the edge over the competitors, and keeping clients in the know. We bring all these aspects together in one user-friendly solution.
---
Our real estate apps are fantastic for sharing data and opening new channels of communication, meaning your clients' questions can be addressed with photos, links, up-to-date information, and much more besides.
Benefits for Property Management & Construction Companies
Real-time reports on completed operations via mobile devices.
The automation of lighting and motion sensors for whole properties.
Management of all resident requests for maintenance or repairs.
The ability to track day-to-day operations and video staff workspaces.
Scheduling service personnel.
The automation of reports, and failsafe backups of all data.
Controlling expenditures and outgoings for all properties, and calculating ROI for systems and operations.
The ability to monitor and control utilities (electricity, gas, water etc) as well as hazards, all integrated into a user-friendly information system.
App Will Bring You Solution
The way your customers seek out properties is changing, and fast. Today, they want to access real-time data via their computers and mobile devices, and in order to stay on top of your competitors, your business needs to be up to date on these developments. Take your business further with advanced implemented features designed to bring in greater traffic.
Contact Options: Mobile devices open plenty of doors when it comes to communication. With our iPhone and Android apps, your clientele can choose to either call, message, or email your firm, with just the click of a button.
---
Mortgage Calculators: Our app developers have seen great success with in-app mortgage calculators, which allow customers to easily find properties in their budgets.
---
Interactive Photos and Plans: Your clients will feel as though they're already in your properties, no matter where in the world they're browsing from. Create floor plans that your clientele can view with the swipe of a finger, allowing them to feel at home as they move from virtual room to room.
---
Connection Managers: All of your agents will have a dashboard from which they can manage their customer interactions, and they'll benefit from integrated messaging systems that will track new leads.
---
Geolocation: With the click of a button, your clients can easily navigate where to go via Google or Apple Maps. It will improve usability of your app.
---
We value your time
and budget
Our app development company is based on years of experience within the real estate industry, and each and every app development project we take on has this expertise at its heart. By combining intuitive interfaces, high levels of functionality, and an innovative approach, we can ensure a top-end user experience for each and every client.
If that sounds like something you could benefit from, we'd love to hear from you. Get in touch today, and a member of our team will provide you with a custom-made portfolio, wherein you can see an overview of how your project will develop and help you become a leader in your field.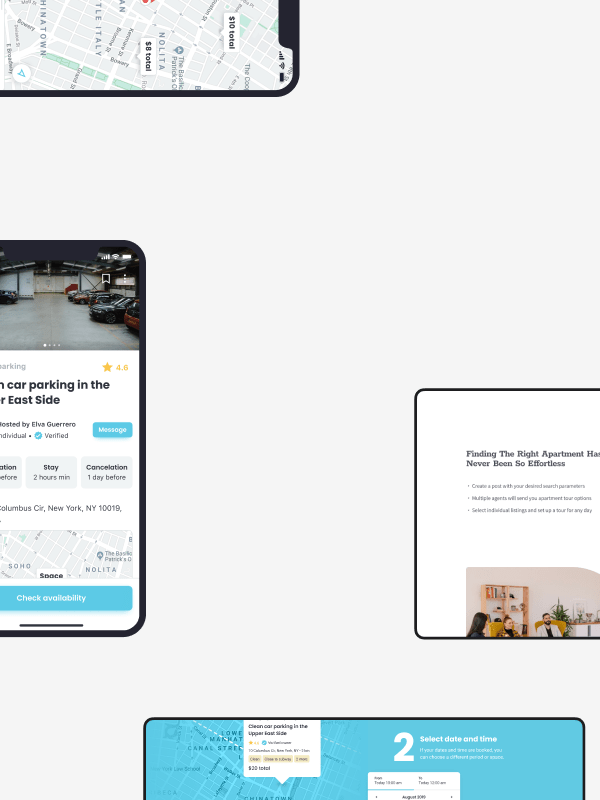 What Our Clients Say
"The team acted in accordance with the highest professional standards."
---
"Their responsiveness is hands down the most impressive thing about them."
---
"They really care about the actual project and not just the technical objectives."
---
"They had a functional shell application up and running within weeks!"
---