Mobile App Developers
in New York City
Award-winning app development company in the heart of Big Apple.
Who We Are
Messapps is a full-service app development company based in New York City, New York. Since 2013, we've redefined business possibilities with flawless applications for enterprises and startups looking to create a standout presence in their competitive markets.
At Messapps, we don't settle for OK, but instead, continually strive for excellence one app at a time. The mobile app design, development, and consulting services we offer are cross-functional, drawing insights from multiple perspectives on end-users, technology, and businesses.
From ambitious startups to Fortune 500 companies, our unique mix of clientele cuts across various industries such as entertainment, sports, health, advertising, and more. Our success is fueled by the creativity, innovation, and enthusiasm of our extraordinary team – all seasoned full-stack engineers and app developers in NYC.
As a result-driven company, we enjoy nothing more than building best-fit apps to the most complex client challenges. The ever-changing nature of app development keeps us on our toes every day – as we explore innovative technologies to ensure that your apps are built for the future. We live for moments when the apps we build enhances your brand's perception with every click, tap, or swipe. This is our greatest passion.
App Development Process
Let's break down how we build high engaging apps. Because we figure you'd probably like to know.

Our app development process is a result of experience, constant experimentation, and organic evolution. We employ an Agile development and testing process to guarantee that the innovative apps we release are secure, scalable, and simply maintainable.
As cliché as it sounds, every great app starts with detailed research. When working on a new app, we always begin by understanding the app requirements in great detail. This includes asking you specific questions to identify your business goals and describing our process of helping you achieve them. We consider the research phase to be the most important.
The design sprint is an exciting phase where our mobile app design team goes about the fine art of building design solutions perfectly attuned to your requirements. Each design solution is tested and iterated upon, resulting in a working prototype that gives a visual feel of how users will experience your app.
This phase sets up the stage for building you an intuitive app that performs at an optimal level for your business. This phase can be executed in-house by our app developers or by embedding us with your existing app development team.
According to Agile, the development phase is divided into sprints. Each sprint covers writing the code as well as configuring your app's API, back and front-end environment. A potential build is released to you for evaluation after completing all sprints – your feedback is recorded and integrated into the next build/release before the testing phase.
Irrespective of the number of quality tests that have been performed throughout the development cycle, there can always be something that occurs out of the blue before release. Our expert QA engineers perform thorough usability, functionality, and compatibility tests to ensure that your app is bug-free and market-ready before launch.
With testing now complete, we set up a detailed and strategic release plan for your app. This ensures that your application is deployed smoothly to its intended environment or app store – Apple App or Google Play store. Having achieved a successful launch, you should now have a mobile app that is in use by your target audience. At this stage, we provide you with on-going support by either enhancing your application around their evolving needs.
With an office in New York City, we welcome business owners at any phase in the mobile app development process. We understand that getting an app into the market quickly, ahead of the competition is vital for some businesses. As such, our app development process reduces downtime so that you can market your mobile app straightway!
How We May
Help You
App development is complicated. Our team is here to help.
The emerging era of smartphones and tablets has made mobile app development an increasingly popular trend among businesses worldwide. However, a majority of entrepreneurs are confused about how to build successful apps for their companies, while those who have invested heavily in app development are simply just yet to unlock the full potential of their investment.
At Messapps, we'll help bring your most intricate app dream to life across popular mobile platforms such as Android, iPhone, and more. Two factors are essential in building successful product; user-experience and robust infrastructure. We arm you with both.
We're not the only New York City firm with experienced app developers. There are several creative minds out there. As such, we distinguish ourselves through our mobile app development process and relationships with clients across New York and beyond.
We work alongside clients, asking for their views and steering them through our app development process every step of the way – right from mobile app design, to development and launch. Our focus remains on building high-quality apps that deliver results for your business, and that is what differentiates us from other app developers in New York City. It's your brand – we're here to help you share it with the mobile universe.
Interactive Mobile App Design in NYC
Every brand is different. As such, we humanize the right mobile app design solution that's not only beautiful but also streamlined to enrich your target audience's user experience. Put simply – we design with your app users in mind.We build innovative apps that offer the very best in user-experience across iPhone and Android devices of any screen size.
---
Live applications require seamless support services and technologies to move them forward. As enthusiastic mobile app developers, we're about more than just building you an application and walking away. We will provide you with robust strategies that will create sustainable value for your brand after launch.
We build innovative apps that offer the very best in user-experience across iPhone and Android devices of any screen size.
---
The Android mobile market is growing at a fast pace. With over 1 billion users globally, the green robot is now the operating system of choice thanks to a wide range of devices that can run it. Today devices running its operating system enjoys an 85 percent smartphone market share, and this is projected to increase soon.
Android's extraordinary success can, in many ways, be credited to its open-source framework, which provides app developers with robust tools to create virtually any app imaginable. This, in turn, has inspired business owners to consider building an Android App for their brand to gain a competitive edge in today's fast-paced world. Being a Google-supported platform, Android offers several robust features that enable organizations of all sizes to streamline their business processes and create new revenue streams.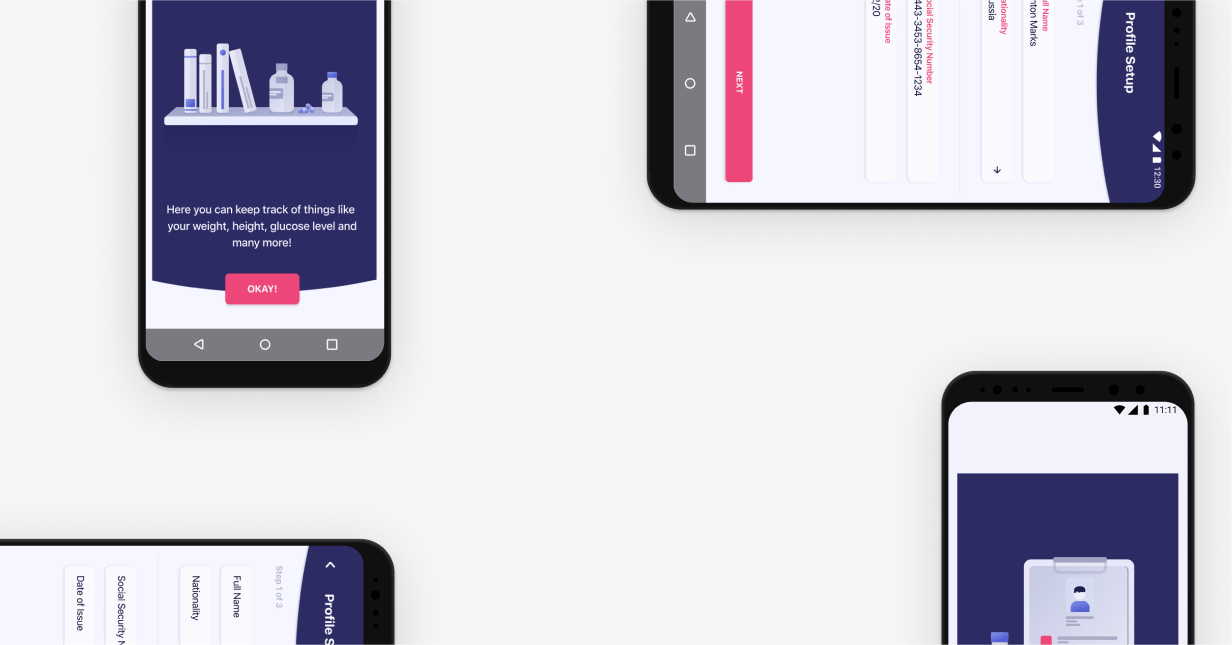 iOS devices like the iPhone have become popular among phone users, all thanks to the data and app security features Apple has been introducing to the operating system. Looking at these security features, many business owners have shifted their attention to iOS apps because it offers a more solid shield to malware and cyber threats.
With a particular emphasis on security, business owners can partner with an iOS mobile app development company in NYC to boost their business presence using a powerful and secure iOS app. And that is what we deliver here at Messapps.
iOS app development has become a focus for every business looking to create new revenue streams with better ROI. However, penetrating the hyper-competitive market of Apple's App Store cannot be imagined without creating an iOS app that keeps a user engaged.
This is a clear reflection of the exponential growth of the iOS app market. As of the first quarter of 2020, Apple's App Store had about 1.85 million available applications for iOS devices.